Gwenaëlle Gobé is an Animator, Illustrator and Documentary Filmmaker based in Los Angeles, CA.

Her feature documentary This Space Available about the onslaught of visual pollution on public spaces in cities around the world, premiered at DOC NYC and screened in festivals and institutions around the world including TIFF Next Wave, Mumbai Film Festival, the Moscow Film Festival, Warsaw Museum of Art, Columbia University and Beijing Design Week. Her short documentary King of the Line follows 5 pioneers of Subway Graffiti Art in New York City as they describe the struggle to inhabit public space with their art and signature. It won best documentary at BeFilm Festival and screened as part of the Henry Chalfant retrospective (author of the seminal book Subway Art) at Gallery Hellenbeck.
She also created graphics for Glen Campbell: I'll Be Me about iconic country singer Glen Campbell fighting Alzheimers, which was nominated for an Oscar, a Grammy and a Peabody and was the most watched CNN Documentary in the franchises's history. She also worked on Requiem for A Running Back about NFL Green Bay Packer's Player and Coach battling brain damage which was reviewed by The Chicago Sun Times, the NY Post, The Village Voice and CBS. Recently, create animations for Turning Point a documentary about Alzheimer's Disease researchers which premiered at the Nashville Film Festival and was praised by Bill Gates in Gates Notes.
Gwenaëlle's illustrations, comics, and animated work are detailed, dreamlike meditations on the journey to understand how we shape our world. Her work has been shown internationally including in Shepard Fairey's Subliminal Projects in Los Angeles, French Institute Alliance Française in New York, the Institute of Visual Arts in London and printed in Swindle Magazine, 3x3 Illustration Annual, Desert Island's Smoke Signal and Obey the Giant Clothing. She is also the creator of the self-published comic book series The Diary of Stephanie about the dreamlike adventures of a two-headed girl called Stephanie.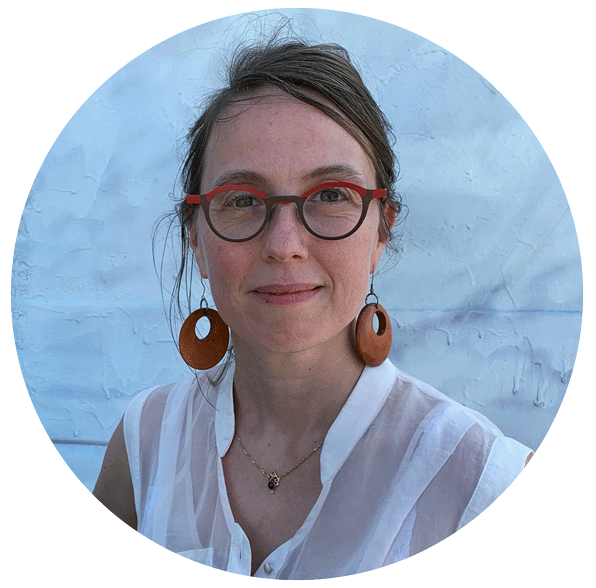 Motion Graphics Designer for documentary short | Theorem Studios
Under The Skin (2019) Directed by Miao Wang

Animation and Design for documentary feature | PCH Films
The Turning Point (2018) Directed by: James Keach
Company: PCH Films, Producers of the films Walk The Line and Groundhog Day

Title and Motion Graphics Designer for documentary feature
Requiem for a Running (2017) Directed by: Rebecca Carpenter
Edited by: Elisa Bonora (Oliver Stone's Comandante, South of the Border)
Press: Chicago Sun Times / Village Voice / NY POST

Animation and Illustration for short documentary
Our Common Home: Dyami's Story (2017)
Company: Culture Strike

Title Motion Graphics Designer for documentary feature | PCH Films
Glen Campbell: I'll Be Me (2014)
Most-watched CNN Films broadcast in the franchise's history
Nominated for Oscar and a Grammy in 2015 and a Peabody Award in 2016
This Space Available, Feature Documentary, 84min, Director
Billboards and commercial messages dominate the public space like never before. Can we reverse this visual pollution? This Space Available looks at diverse activists from the worlds of advertising, street art, and politics. Influenced by the writing of Marc Gobé (Emotional Branding), his daughter Gwenaëlle directs with tremendous verve in her depiction of New Yorkers and others around the world who want to reclaim the integrity of their cities against an onslaught of visual pollution.

King of the Line, Short Documentary, 6 min, Director
In the 1970's, New York City was going broke. Out of the rubble grew a brave movement of public art and display. King Of The Line follows five of the pioneers of Subway Graffiti Art as they describe the struggle to inhabit public space with their art and signature. Often erased or criminalized, these artists fought against an ever more oppressive police force. The film looks at how modern day corporations have now tried to co-opt that same public space with their commercial messaging.

Shepard Fairey & The Obama Poster, short documentary, Director
Street Artist Shepard Fairey discusses his involvement in making one of the most iconic and viral campaign posters of all time.

Phillipe Apeloig: Graphic Designer, short documentary, Director
An intimate interview and walk-through tour of one of Philippe Apeloig's most famous exhibit at l'Espace Topographie de l'Art in Paris A consistent vision pervades the design of Philippe Apeloig. He has crafted a visual language strongly connected to rhythm, structure, pattern, space and choreography, a language that invites us to wander through a thicket of letters, lines and shapes that coalesce into something magical
The Diary of Stephanie, comic book
Island Bestiary, mini comic book
Mavis K. BBQ Steak, mini comic book
Chicken Marinated in Beer, mini comic book
Talking and Listening, mini comic book
This Space Available, Coloring Book

Punanimation's London show opens this week, It's Nice That, 2018
Egypt's street artists now risk even more, Vandalog, 2014
Father-Daughter Duo Marc and Gwenaëlle Gobé Screening Their Films, WWD, 2013
Interview, CBC On the Coast, April 2013
The Marlboro Man Still Sells Cigarettes, ADWEEK, 2013
The Comics Reporter, 2013
From our Continental Correspondent - The Diary of Stephanie," Forbidden Planet, 2012
The Rise of 'Visual Pollution' and the Fight to Stop It, The Atlantic, 2012
Guerilla Street Artists vs. Billboards with "This Space Available" Interview by Ondi Timoner on TheLip.tv, 2012
'This Space Available' and the Problem with Billboards, NPR MARKETPLACE, 2012
Interview, BRIAN LEHRER LIVE, 2012
Gwenaëlle Gobé Debuts First Documentary, WWD, 2011
"This Space Available": Film Looks At Advertising As Visual Pollution in Public Spaces,Tree Hugger, 2011
Contaminación 'a la vista', REPORTE INDIGO
Ban Billboards, Fund Journalism!, THE TYEE
Documentary "This Space Available" fights visual pollution, SMART PLANET
This Space Available Doc Tackles Outdoor Marketing Overkill, BRAND CHANNEL
Print Magazine, Regional Design Issue, group show, 2009
The Center for the Study of Political Graphics News, 1968 Poster project, June/July 2008
GOOD Magazine online, 1968 Poster feature, May 2008

This Space Available


Beijing Design Week, 2014
Architecture Film Festival Rotterdam, 2013
Columbus College of Art & Design, Columbus, OH, 2013
BeFilm Underground Film Festival, New York, NY, 2013
Kultura TV, Russia, 2013
The New School, Kellen Auditorium, New York, NY, 2013
Lens Politica, Helsinki, Sweden, 2012
UPENN, Philadelphia, PA, 2012
10th American Conservation Film Festival, Sheperdstown, WV, 2012
Jacksonville/JAX Film Festival, Jacksonville, FL, 2012
Ojai Film Festival, Ojai Theater, Ojai, CA, 2012
Lodz Design Festival, Poland, OR, 2012
WARSAW MOMA, Warsaw, Poland, 2012
UNAFF United Nations Film Festival, Palo Alto, CA, 2012
Mumbai Film Festival, Real Reel, Mumbai, India, 2012
Moscow International Film Festival, Moscow, Russia, 2012
Open City Docs Fest, London, UK, 2012
TIFF Next Wave, Toronto, Canada, 2012
Landmark Theatre in Washington, D.C. Invited by Scenic America, 2012
Columbia University Business School, New York, NY, 2012
Public voice for public space Invited by SCRUB, Philidelphia, PA, 2011
DOC NYC , New York's Documentary Festival, IFC Center, NY, 2011



King of the Line


BE Film Festival, Best Documentary Award for King of the Line, 2013



The Old Noise


First Sight Scene, L.A. Film Forum, 2008
Silent Movie Theatre, L.A., 2008

Punanimation, Pocko Gallery, London, 2018
Punanimation Screening, The London Illustration Art Fair, 2018
Meet the Author Gwenaëlle Gobé, French Institute Alliance Française (FIAF), New York, NY, 2013
Déclin de l'Empire Américain: Photos et films d'Henry Chalfant, Galerie Helenbeck, Nice, France, 2013
Simple Pleasures, Shepard Fairey's Subliminal Projects and Studio Number One, Los Angeles, CA, 2008
New Traditionalists, Subliminal Projects gallery, curated by Shepard Fairey, Los Angeles, CA, 2005
Rapid Succession, CalArts D-300 and D-301 galleries, Valencia, CA, 2004
The Danger Museum, Institute Of International Visual Arts (inIVA), London, UK, 2002
Dream Plan Project, Kwanhoon Gallery, Korea, 1999
September Festival, curated by The Danger Museum, Substation Gallery, Singapore, 1999
The Shelf Gallery, Goldsmiths College, London, UK, 1998
Comic-Con, APE and other comic / zine conventions

Best of America, Readers Digest Magazine, July 2013
Swindle Magazine, Issue #3,
3x3 Illustration Annual No.7
Desert Island's Smoke Signal #3
The Diary of Stephanie, Swingset Magazine, 2002 - 2007

Best of America Photography Contest, Readers Digest Magazine, 3rd place, 2013
Scenic Visionary Award for This Space Available, Scenic America, 2012
Ojai Film Festival 2012 Awards, Best Documentary Feature, Honorable Mention, 2012
FotoKem Student Filmmaker Grant, Department of Experimental Animation, CalArts
Eastman Kodak Film Grant, Department of Experimental Animation, CalArts
Panavision's New Filmmaker Program grant recipient, Department of Experimental Animation, CalArts

MFA CalArts, Experimental Animation, 2006
BFA, Fine Arts, Bard College, 1999